Two jailed over £50,000 heroin haul in Jersey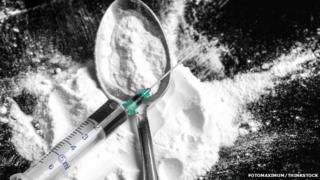 Two men caught with more than £50,000 worth of heroin have been jailed.
Aaron Daniel Higgins, 25, and Stuart Daniel Hutchison, 29, were arrested at the Jersey Squash and Racketball Club, in St Clement, in October.
Forty-eight grams of heroin was found in Higgins's holdall at the club, Jersey's Royal Court heard.
Both admitted possession of heroin with intent to supply. Higgins was jailed for five-and-a-half years and Hutchison was sentenced to three years.
The pair were stopped by undercover police officers as they emerged together from the toilets at the squash club on 18 October.
When the officers searched the men, they found £2,000 in cash and 7g of heroin, which they said suggested that Higgins had just sold the drugs to Hutchison.
The next day, police searched the squash club and found the 48g.
The street value of the haul could have exceeded £50,000, the court heard.