Jersey excavation of WW2 German camp turns up new items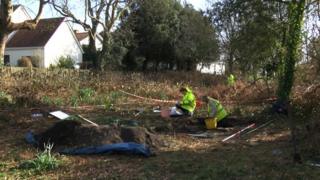 Archaeologists examining the last remaining World War Two German camp on Jersey have found fresh information on what conditions were like for inmates.
A team of experts has discovered toiletry items at the site of Lager Wick at Grouville Marsh.
It is the only site left from the German occupation of the island that has not been built on.
Dig leader Dr Gilly Carr, from the University of Cambridge, said the site was rich in historical evidence.
Archaeological investigations at the site can only take place for a few days every year as the site is surrounded by woodland inhabited by rare birds.
The first dig took place in April last year and archaeologists began their second dig on 27 March.
Items such as medicine bottles, window glass and a toothpaste tube have been unearthed.
Dr Carr said: "For those who say there is nothing left to find and no more questions to ask - that's absolutely not true."