Jersey drivers issued with 13,000 parking fines in 2014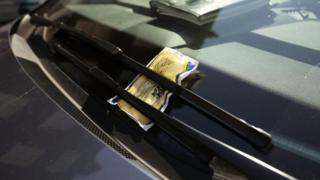 Nearly 13,000 parking tickets were issued in Jersey public parking areas last year, a Freedom of Information (FoI) request has revealed.
Of the 12,907 tickets issued, wardens gave out, on average, 35 tickets a day because of offences in 41 public car parks and lay-bys.
The most tickets, just under 2,450, were issued in Sand Street.
Public parking fines are £60 but are reduced to £40 if paid within three working days.
The most common make of car ticketed were Ford, followed by Volkswagen and Peugeot, the FoI response from the States of Jersey said.
Car parks with highest numbers of parking fines :
Sand Street - 2449
Minden Place - 1942
Patriotic Street - 1503
Esplanade - 1271
Green Street - 896