Condor ferry delay leaves 60 stranded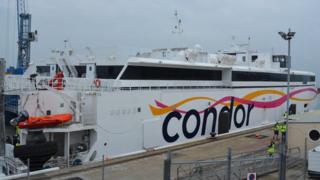 About 60 passengers were left behind in St Helier when the Condor Liberation ferry had to sail without them.
Problems with a ramp caused delays to its sailing from Poole to the Channel Islands on Saturday and the ferry left 40 minutes late at 10:10 BST.
When it arrived in Jersey it had a shorter turnaround time and it took too long to load.
The Liberation had to leave without 24 vehicles in order to make sure it caught the tide.
Stranded passengers were able to travel on another ferry, the Commodore Clipper on Saturday night, or on the Liberation on Sunday.
The new £50m ferry Liberation was damaged on its first weekend in service when it hit the harbour wall in Guernsey and was out of action for a week.
When it returned to service last weekend it developed an electrical fault and engine problems so it had to travel at a slower speed.
The firm said on Sunday that the Liberation was running 30 minutes late.