Jersey States fund Guernsey fishing licence battle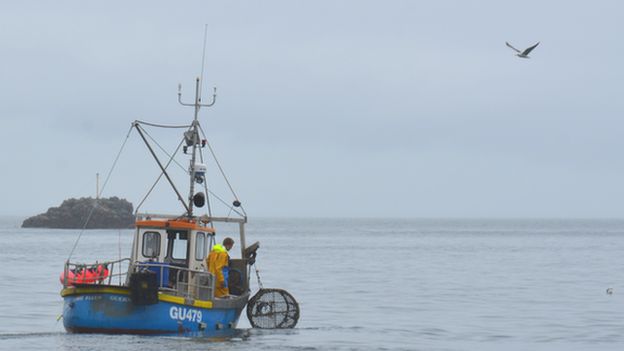 A Jersey fisherman has been given a grant by the States to help fight a ban on him fishing in Guernsey waters.
Environment Minister Steve Luce would not say how much the payment was but that it was to help with legal fees.
He said there was a principle at stake as he had been fishing in Guernsey waters for years.
Guernsey's Commerce and Employment Department, which is responsible for safeguarding the island's marine environment, has yet to comment.
Guernsey fisheries scheme
The licensing law came into force on 1 February 2013
It means anyone wanting to fish commercially in the area between three and 12 nautical miles (nm) around the Bailiwick of Guernsey has to be licensed
The Guernsey, Alderney and Sark authorities introduced the system in a bid to protect fish stocks and the livelihoods of local fishermen
Prior to the law coming in, fishing in the area, about 1,000 sq nm of sea, had been unregulated since 2007
Those breaking the law were warned of harsh penalties after the skipper of a Devon-based trawler was fined £6,000
Before the law was brought in, Jersey's Economic Development Department offered to pay the £500 administration fee needed to apply for a licence on behalf of its fishermen
Deputy Luce said he had given Mr Channing a small amount of money to start with but there may be more in future as it was an important issue.
Mr Channing said: "It needs challenging. If I didn't believe we would win in the end, I wouldn't challenge it but I believe we will get a good outcome."
Don Thompson, president of the Jersey Fisherman's Association, said the gesture was welcome but the government could do more.
He said: "Giving some support to a single fisherman will help that fisherman but it is only a fraction of the cost of that court case.
"What we would have liked to have seen is the States of Jersey put a case to support the whole industry against what is a very discriminative licensing scheme."
Related Internet Links
The BBC is not responsible for the content of external sites.