Jersey man death from fall cause 'unclear'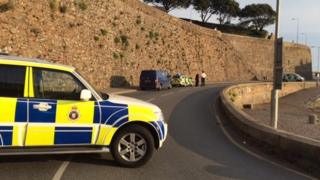 The inquest into the death of a Jersey man who fell from a 30ft (9m) wall has recorded an open verdict.
The deputy viscount, Mark Harris, said it was not possible to determine whether Gavin Le Cornu, 29, killed himself or fell in a tragic accident.
Mr Le Cornu died in hospital in August from extensive head and chest injuries, after falling from the wall near Commercial Buildings, in St Helier.
The police have ruled out anyone else being involved in his death.
Mr Harris said there was no obvious reason for him to be in the area or to be leaning over the wall but with no suicide note, newly married and with plans for the future there was no reason for him to take his own life.