Jersey job licence laws are 'forcing businesses to close'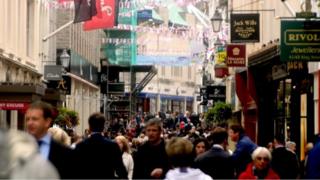 Jersey businesses say local employment laws are putting them at risk of closure.
Cafe owner Sue Marquis said the rules which restrict who works in the island are "really damaging small businesses" and several have been forced to close.
She said "one business lost a £100,000 contract" because staff licences were refused.
Senator Paul Routier, Assistant Chief Minister, said population needs controlling and support is available.
As minister responsible for the Control of Housing and Work Law he defended the rules saying in the last social survey 77% of islanders said they wanted to control population.
He said: "Jersey is open for business but needs to ensure that the licences we are allocating are allocated in an appropriate manner."
"The message we need to get across to businesses is if they have training needs the social security department are very prepared to make sure they have the support required."
St Helier Constable, Simon Crowcroft, is campaigning for the current rules to be changed.
He said: "At the moment there is a suggestion we are not open for business because it is too difficult for small businesses to start up.
"We could be in danger of losing some of our really good industries."
---
Residential Categories
ENTITLED - Lived in Jersey for 10 years - can work anywhere and buy, sell or lease anywhere
LICENSED - An essential employee working in something like healthcare or education. Can buy, sell or lease property in their own name but employers need a licence for a specific period of time
ENTITLED TO WORK - Someone who has lived in Jersey for five years. Can work anywhere and can lease registered property
REGISTERED - Does not qualify any other way. Can lease registered property but employers need a licence
---
Deputy Andrew Lewis is now calling for a review of the 2012 Housing and Population Law, which governs the licensing system, and he believes this should happen every three years.
He said: "We're seeing a change in the economy and as it picks up you need key skilled workers.
"[The law is] not flexible enough at the moment."
Deputy Lewis also wants a review into islanders leaving Jersey to work elsewhere.
"The Education Department for years has trained hairdressers, mechanics, chefs, where are they? We need more research into what's happened to these people that we've paid for."