Jersey ministers reject living wage call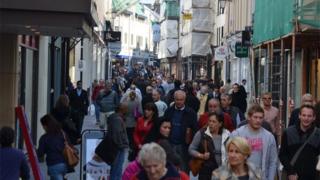 Introducing a living wage in Jersey is not needed as the minimum wage plus benefits already equals a living wage, the social security minister has said.
Deputy Susie Pinel said she was committed to increasing the minimum wage to 45% of average earnings.
The current average full time mean wage is £34,840 per year and the minimum wage is £6.78 per hour.
The living wage is designed to be a rate based on living costs, whereas the minimum wage is based on the market.
Chief minister Senator Ian Gorst said: "The most important thing is that people have jobs.
"When I talk to some sectors, particularly agriculture, they say they would struggle if there was a statutory living wage.
"People shouldn't fear going to social security to get benefits. We want to support people as a society."
Currently, the minimum wage is about 40.5% of the average wage, but Deputy Pinel said they would hit 45% by 2026.
She said: "We have a higher minimum wage than most other jurisdictions which is evaluated every year by the employment forum."
The Living wage has been taken up by some high profile companies in the UK.
It is set by charity groups based on how much it costs a household to live and is £9.15 per hour in London.
Deputy Andrew Lewis, who supports the living wage, said it was about making staff who are paid low wages feel valued and get them off benefits.