Melbourne Zoo gorilla death 'tragic' says Durrell keeper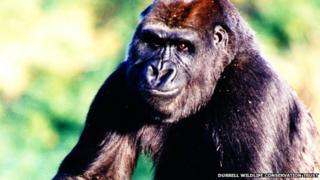 The death of a gorilla after an attack in Melbourne Zoo has been described as "tragic".
Julia, 33, was attacked by a young male silverback called Otana and died of her injuries.
She had lived at Durrell Wildlife Park in Jersey since 1990 and moved to the zoo in Australia in 1997.
Dominic Wormell, Durrell's head of mammals, said Julia's "amazing life", which including being taken from the wild illegally, had ended "tragically".
He said she was found in Holland and "repatriated to Gambia, where they tried to socialise her".
However, she did not take to life in the wild and was sent to the park on the Channel Island.
"Richard Johnson-Scott, who was working with the gorillas then, managed to socialise her with the group we had here," said Mr Wormell.
"For this to happen is quite sad."
Mark Brayshaw, the head of animal collection at Durrell, said: "We are obviously upset to hear the sad news about Julia. She is fondly remembered here at Durrell."