Wendy Trehiou completes St Malo to Jersey 36-mile swim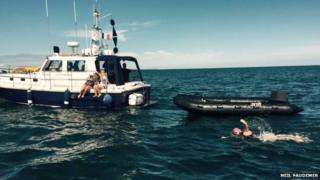 A breast cancer survivor has successfully completed the first swim in history from St Malo to Jersey.
Wendy Trehiou, from Jersey, took about 24 hours to swim the 36-mile (58km) route and was greeted by supporters on her arrival at La Collette.
She told the BBC she had been stung by jellyfish and accompanied by two pods of dolphins along the way.
Ms Trehiou, 46, set off from St Malo at about 09:30 BST on Sunday and arrived in Jersey shortly before 10:00 BST.