Jersey States supports same-sex marriage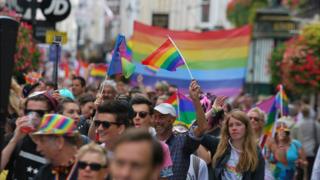 A move to introduce same-sex marriage in Jersey has been approved by the island's government.
The draft legislation, which will be voted on separately, is due to come back to the States by January 2017.
The move will see two types of marriage - civil and religious - the retention of civil partnerships and other changes to the marriage laws.
The law will allow religious groups or individuals to opt out if same-sex marriage goes against their beliefs.
Christian May, chairman of equal rights campaign group Liberate, said: "We're not trying to erode marriage in any way, we're trying to bolster it by offering it to all people who are in love."
'Must consider divorce'
Senator Philip Ozouf, the island's only openly gay politician, said coming out had been "intensely difficult". He said he hoped he would be the last island politician to have to go through the experience and in future everyone in the public eye would be accepted for who they are.
Chief Minister Ian Gorst, who put forward the propositions, said: "We cannot consider marriage without considering divorce... [and I ask the States] to make it a legal requirement for those seeking a divorce to access mediation."
The law changes will affect parental responsibility rules and introduce limited protections for cohabiting couples.
The report suggests further consideration about how premises, facilities and services connected to religious institutions are to be treated in law if they wish to opt out out of providing services for same-sex marriages. It added the tax system for married couples and civil partners needs reviewing.