Jersey care inquiry: Yacht club abuse claims 'hit dead end'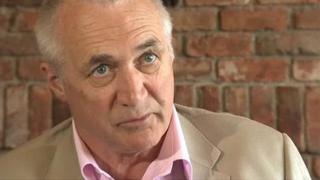 Investigations into claims that police socialised with suspected paedophiles at a Jersey yacht club "came to a dead end", a former police chief has said.
Graham Power was in charge when the police investigation into historical child abuse began in 2006.
He told Jersey's abuse inquiry that officers could not access the yacht club registers, which would have shown who was present at gatherings.
Mr Power was suspended in 2008 over his handling of the investigation.
'Out at sea'
He said there were reports that children were abused on boats.
"I was told that a group of police officers and senior officials, and people who were subsequently associated with paedophile activity, used to meet as a group at the yacht club at the same time and socialise together.
"The reports that things were happening out at sea all seemed to join up into a sort of set of circumstances that merits investigation."
He told the hearing that during an investigation into the abuse of a sea cadet, a suspect had text messages on his phone to a retired senior police officer asking for advice about the inquiry.
'Long-running conspiracy'
Mr Power retired in 2010, while suspended.
His suspension was described as unfair in the Napier Report, released in 2010, which he said exonerated him.
Mr Power said the meeting at which he was suspended by ministers lasted 35 minutes, and he was given an hour to decide whether he would resign.
He said: "It was clearly a craftily devised, long-running conspiracy between them."