Jersey language to be taught in more schools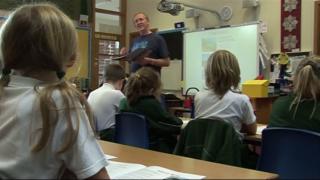 Jersey's native language, Jerriais, will be taught by a larger group of qualified language teachers in island schools from next year.
Education Minister Deputy Rod Bryans said it would be included in the new cultural programme.
Tony Scott Warren and Colin Ireson from L'Office du Jerriais are due to retire soon and will train the new teachers.
Mr Scott Warren said teaching the language to a wider group would help keep it alive.
A year ago Jerriais was listed among 33 European tongues most endangered in the UNESCO Languages in Danger project.
Mr Scott Warren said: "We need to build some resilience into the system and the best way to do that is to get qualified language teachers to take on some of the role we do at the moment."
---
A few Jerriais phrases
| English | Jerriais |
| --- | --- |
| Hello | Bouônjour |
| Goodbye | À bétôt |
| See you next time | À la préchaine |
| Thank you very much | Mèrcie bein des fais |
| Enjoy your meal | Bouon appétit |
| Merry Christmas | Bouôn Noué |
| E-mail address | Adresse d'e-mail |
| Website | Site d'Ithangnie |
| To go clubbing | Clober |
Source: jerriais.org.je
---
Mr Bryans said Jerriais was an important part of the island's heritage. He said it was being written into the curriculum.
"With two members retiring we took it as an opportunity to look at the model and decide whether it was the best way of teaching the language and decided that it probably wasn't.
"I think the new system will inject a new sense of momentum by having younger exponents of the language," he said.
L'Office du Jerriais currently manage the language including producing the dictionary, adding new words and teaching.
Currently pupils are able to sit a GCSE in Jerriais but in lunchtime classes, not part of the normal curriculum.
Mr Scott Warren said: "The job we do is not simply teaching language to children in schools, we also do adult language teaching and promotion of the language in general.
"I'm hoping that will be taken into account when recruiting of new teachers take place."