Minister 'politically exposed' in abuse investigation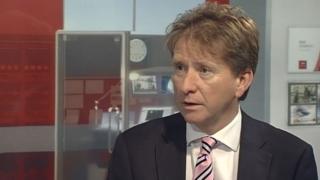 A former Jersey home affairs minister said he was "left politically exposed" by senior police officers during a child abuse investigation.
Deputy Andrew Lewis told the Jersey Care Inquiry he felt "personally misled" when bone parts found at a care home turned out to be wood or coconut.
He said police chiefs Graham Power and Lenny Harper did not have a media strategy.
The inquiry is investigating child abuse in Jersey between 1945 and 2013.
In February 2008 the police investigation, known as Operation Rectangle, received international publicity when officers said bone fragments had been discovered at former children's home, Haut de la Garenne.
It was later decided that these fragments were likely to be wood or coconut.
Deputy Lewis said: "I have watched plenty of crime thrillers to know that the sort of thing that you do not say to anybody before you are absolutely sure, is making allegations without evidence that is proven."
Mr Power was suspended for his handling of Operation Rectangle by Deputy Lewis in November 2008.
Deputy Lewis told the inquiry the child abuse investigation was "hijacked by a homicide investigation" and said he had been "seriously misled, as were the people of Jersey".
He said in the 2008 press releases, police claimed to have discovered "pieces of human skull and teeth, all of which were suggesting bodies had been found", but this had now been "completely discredited".
Mr Power tried to prevent criticisms about the investigation coming out at a press conference convened by law and police officers, after Mr Power's suspension, Deputy Lewis claimed.