Jersey hotel changes 'Isis' name to avoid link with terrorist group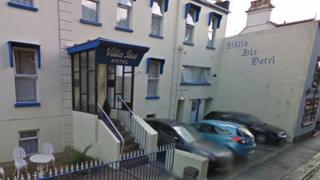 The owner of a hotel in Jersey has changed its name from Villa Isis to avoid any association with the so-called Islamic State group.
The guest house in St Helier will now be known as Villa Nova.
Daniel Peterson said he did not believe he had lost any business because of the name.
But he added he did not want the hotel to have any negative connotations or be considered "a joke".
It is not the first place to change its name from Isis, which is also the name for an Egyptian goddess and a section of the river Thames in Oxford.
In 2015 an English language school in the city ditched its branding, followed by an academy in 2016.
'Over-reacting'
Mr Peterson, who has owned the hotel since the 1980s, said it had cost him time and money to change the branding.
"We'll be putting the new signage up, changing the new domain, printing brochures... probably a few things I haven't thought about yet," he said.
However, he said most people he had spoken to about changing the name had said they had "never thought" about it being associated with the terrorist group.
"I don't want to sound like we're over-reacting, but I just thought it's better... at best people could have a laugh, at worst you don't really want to write that in a search engine."