Adrian Lynch: Body found where missing man last seen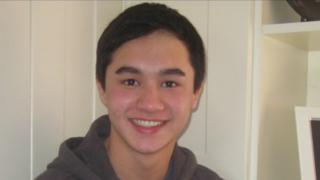 The remains of a body have been found in the area a Jersey man went missing last year, police said.
Adrian Lynch, 20, was last seen in the early hours of 5 December 2015 after his work Christmas party.
The remains of a body partly submerged in water were found by a worker at Handois Reservoir in St Lawrence on Thursday.
Jersey police said the missing man's passport was found in the pocket of a jacket on the body.
Officers have not confirmed it is Mr Lynch and said a formal identification was "likely to take some time".
Earlier police said they had informed Mr Lynch's family due to the proximity of the discovery to his last known location.
A spokesman said: "We understand the public interest that this incident will create, but we would ask that islanders respect this request and the family's privacy at this time."
A spokesman for Jersey Water, which owns the site, said: "Handois reservoir has been subjected to several extensive police searches during the ongoing investigation, including sonar and divers.
"The reservoir, which is not normally open to the public, is now under the control of the police."
Helier Smith, chief executive officer of the water firm, described it as "a distressing time" for staff and said all those working at Handois had been offered support.
He added: "Our thoughts are also with Adrian's family."