Sally Minty-Gravett completes double English Channel swim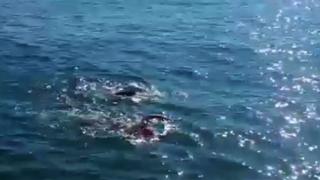 A seasoned swimmer has become the oldest woman to swim across the English Channel and back again, according to the Jersey Long Distance Swimming Club.
Sally Minty-Gravett, 59, from Jersey, swam from Dover to Calais and back, starting at 09:00 BST on Monday.
She arrived in France at about midnight and was back in Dover on Tuesday after 36 hours and 26 minutes.
She said: "I'm absolutely delighted it's done. I can move on with my life and start doing some fun things."
It is the seventh time she has swum either way across the channel, but her first return trip.
She made her first in 1985 and has made the crossing every decade since.
Ms Minty-Gravett said: "It was quite a rough crossing on the way to France... it's probably the most focussed I've ever been."
She paid tribute to her "fantastic" support crew who helped her achieve the challenge "easily and comfortably" and without any injuries.
The challenge has raised more than £9,000, which will be donated to the RNLI and Jersey Cheshire Home.