Search for missing woman into third day in Jersey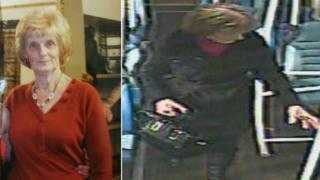 Emergency services are searching for a 75-year-old Jersey woman missing for three days.
Islander Valerie Jehan was last seen at around noon on Friday, near West Park, St Helier.
CCTV pictures show her on board a bus to Devil's Hole on the north of the island, where States of Jersey Police are now focussing their efforts.
They have described her as 'high risk' and have asked that people stay away from the area.
Mrs Jehan is described as 5ft 6 in (1.68m) tall, of proportionate build, with light brown or blond hair. She was last seen wearing dark clothing and carrying a small black handbag.
A plane, a lifeboat and land-based emergency teams are involved in the search.