Missing woman 'may have fallen into sea' at Devil's Hole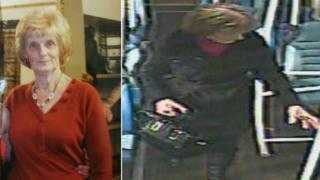 A 75-year-old woman who has been missing for five days may have fallen from cliffs into the sea, police have said.
Valerie Jehan's handbag was found at Devil's Hole on the north of Jersey.
She was last seen on CCTV on Friday boarding a bus to the site from St Helier.
An air, land and sea search was carried out and had been concentrating on the 200ft (60m) high natural crater formed in the cliff.
Ch Insp Chris Beechey said: "Sadly this discovery [of the handbag] suggests what we have feared.
"Everything now is pointing to the fact that Valerie got into difficulties in the area of the Devil's Hole and has fallen into the sea."
Mrs Jehan's family have been informed.
Devil's Hole, which is 100ft (30m) across, was created by the sea gradually eroding the roof of what was once a cave, until it collapsed and formed the crater.