Horse badly injured in St Peter stabbing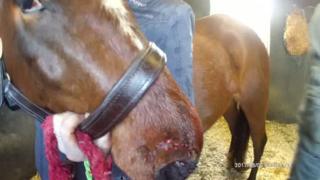 A horse has been stabbed in the head, leaving it with serious injuries.
States of Jersey Police said it happened on Monday afternoon at a private property along La Grande Route de Saint-Pierre in St Peter.
A vet attended the scene and provided treatment immediately to the horse, which could be left with a permanent disfigurement.
Officers say the horse is continuing to receive treatment and the injuries are not thought to be life-threatening.
Constable John Refault, in charge of St Peter parish, said: "This is mind-boggling, it is outrageous, it is disgraceful, I can't believe anyone would do something like this to a poor defenceless animal."
A police spokesman said it was a champion-type horse used for dressage so "permanent disfigurement has a significant impact".