Jersey woman rescued after Grosnez cliff fall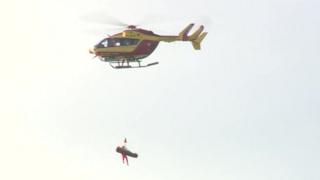 A woman has been rescued alive after a 200ft (60m) fall from cliffs in Jersey.
Coastguards coordinated the rescue operation at Grosnez after the fall on Saturday evening.
A French search and rescue helicopter crew winched the 59-year-old to safety after fire and ambulance crews were unable to reach her with ropes.
The woman was airlifted to hospital, but a spokesperson for Jersey Police said she was not thought to have sustained serious injuries.
The rescue operation was coordinated by Jersey Coastguard.