'Dinosaur' sparks blaze at Jersey's Tamba Park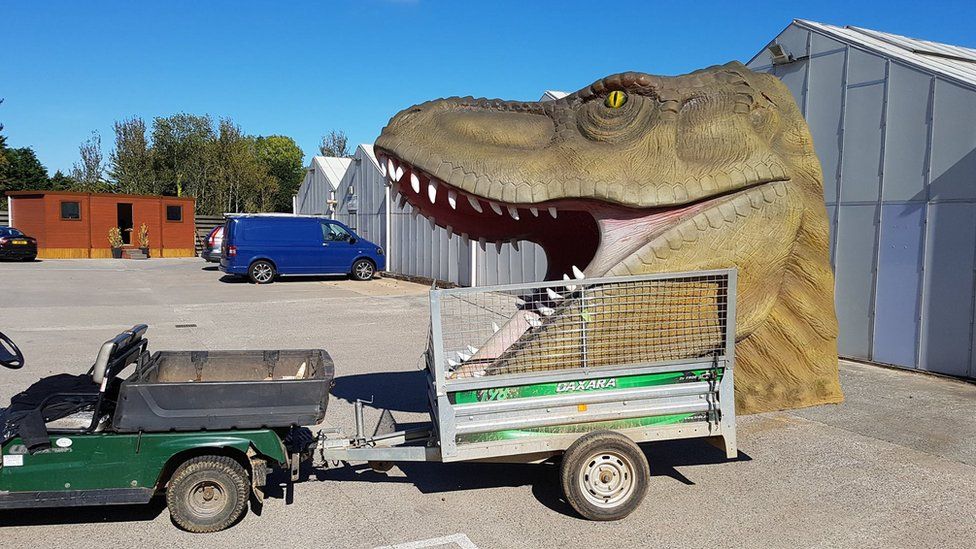 A major blaze at an adventure park was sparked by the use of welding equipment on the teeth of a giant dinosaur, a fire service has said.
"Dangerous" black smoke was visible across Jersey as a result of the blaze at the island's Tamba Park.
The fire - reported at around 12:30 BST - engulfed vehicles and gas cylinders before it was brought under control at 14:45.
All staff and visitors were evacuated with no injuries.
Group Commander Martin Allix of the Jersey Fire and Rescue said the smoke was "a mixture of burning plastic and rubber" which could be "very dangerous" for anyone in the area.
One visitor to the St Lawrence park, David Gardiner, said he heard a "boom" before he saw the smoke and was evacuated from the park by members of staff.
Park operations manager Christopher Colin said the dinosaur model was undergoing "routine maintenance".
He said: "The sparks set it alight. We very quickly jumped on the fire extinguishers and water but it just wasn't enough, it went up too quick.
"Very quickly it went from a minor, small, fire to a full evacuation".
He added that staff spend around 20 hours per week on repairs to the dinosaurs in the park and that they had "never seen anything like it".
He added: "We're missing a dinosaur but, at the end of the day, no one's hurt so I'm happy."
The park was closed for the day.