Jersey smoker killed lighting pipe on oxygen feed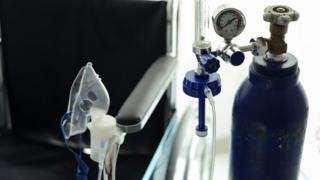 A smoker sparked "a fire around her mouth" when she tried to light a small pipe while attached to an oxygen feed.
Diane Lesley Noel, 64, from St Peter in Jersey, died from shock when the miniature explosion caused her heart and lungs to fail, an inquest heard.
The inquest heard Mrs Noel suffered from chronic lung disease for years and was "warned to stop" smoking.
Her husband Alan Noel said she had cut her tobacco intake down to the equivalent of two cigarettes a day.
She was smoking from a "small pipe" after cutting down from a 20 cigarette-a-day habit.
At the inquest, held at Morier House in St Helier, Advocate Cyril Whelan heard Mrs Noel had a previous scare a few years earlier from smoking while using her oxygen and that Mr Noel said he thought she had "learned her lesson".
On the 20 October 2016, however, Mrs Noel was home alone and turned her oxygen supply to a higher than recommended level as she was suffering from a lung infection.
She tried to smoke her pipe in her bedroom.
A neighbour called the fire service after the flat's fire alarm sounded for 45 minutes,
Mrs Noel was declared dead two hours later.