Three jailed for Jersey drugs operation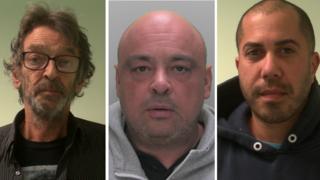 Three men have been jailed after admitting a number of drugs offences and money laundering in Jersey.
They were arrested after the discovery of cannabis resin, MDMA tablets and £30,000 cash in a safe.
Darryn Rae, 52, from an undisclosed UK address, was jailed four years, while Antonio Spinola, 35, from La Chasse Court, St Helier, was give a sentence of three years, nine months.
Michael Palmer, 65, of Sunshine Avenue, St Saviour, got three and a half years.
More on this story and others from Jersey
Officers saw Rae depositing cash in two separate bank accounts while on the island, the Royal Court heard.
When officers searched Spinola's flat they found the drugs and cash.
During the search Michael Palmer arrived looking for Spinola.
Officers found cash in his car and more cash and cannabis resin in his flat.
When questioned by police, Spinola denied supplying drugs but he admitted to being a banker in the enterprise.
Rae's defence advocate said he had had borrowed money to set up his own business and was pressed into the activity to repay the debt.
Rae and Spinola admitted three money laundering offences. Spinola admitted possession of cannabis, MDMA, and cash from criminal activity.
Palmer admitted supplying and possessing cannabis and money laundering.