'Extra strong, Ikea branded' ecstasy pills linked to Kyle Pringle's death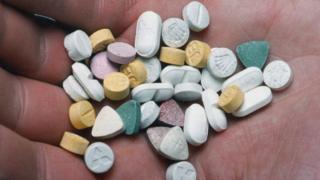 An 18-year-old man has died from what is believed to be a "particularly strong" batch of ecstasy tablets.
Jersey Police said Kyle Pringle, from St Helier, died at the General Hospital early on Saturday morning.
His death follows a public appeal about the yellow and blue drugs circulating in the island, stamped with the word IKEA.
Three people have been arrested and a quantity of the branded tablets have been seized.
Increased availability
"Whilst subject to toxicology reports and a post-mortem, evidence at this time suggests the death is as a result consumption of "Ikea" ecstasy tablets," a police statement said.
"We strongly advise members of the public not to take these tablets in the interests of their health.
"Anyone who does take the tablets and becomes unwell is urged to seek medical attention through their GP or in an emergency, attend at the accident and emergency department."
A report into Mr Pringle's death will be submitted to the Deputy Viscount.
Ecstasy is also known as MDMA and last year the European Monitoring Centre for Drugs and Drug Addiction warned of a resurgence in use of MDMA and an increased availability of high-strength tablets and powders.