Driver not guilty of dangerous driving in three-year-old's fatal crash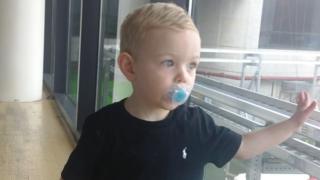 A woman who ran over a three-year-old boy has been cleared of causing his death by dangerous driving.
Rebekah Le Gal, 39, from Mont Millais, Jersey, was texting at the time of the fatal crash, the court heard.
She still faces sentencing on a lesser charge - causing death by careless driving - which she pleaded guilty to on a previous date.
Clinton Pringle was run over in Tunnel Street, in St Helier on 27 June 2016, and died three days later in hospital.
Le Gal was cleared earlier following a six-day trial at Jersey Royal Court.
'Haunted' by accident
Clinton's parents Stacey and Michael Pringle were on holiday from North Lanarkshire in Scotland when the accident happened.
Mr Pringle said they intended to stay in Jersey for the one-year anniversary of the day Clinton was hit.
Le Gal told the court on Friday she could not explain why she did not see Clinton before the collision and that she was "haunted" by the accident.
The Crown alleged that Le Gal had been texting before the fatal crash.
Mark Temple, prosecuting, said Le Gal's level of distraction was "extreme" because of the use of her mobile phone and that explained why she missed seeing the child in the street.
He said her driving fell far below the standard of careful driving.
Le Gal is due to be sentenced in July for causing death by careless driving.