Jersey Fire move nine people from home over safety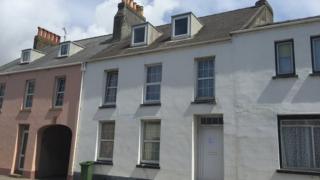 Nine people had to leave their homes on Tuesday after Jersey's fire service ruled the building was not safe.
Officers inspected Dunell House in St Helier on Tuesday and found a serious lack of fire precautions.
Tenants had to leave the properly immediately until it had been brought up to minimum standards.
States of Jersey Fire and Rescue said the risk was so serious the use as living accommodation "should be prohibited".
More on the fire risk and other stories on BBC Local Live >
Adrian Baran, who has lived in the property for two years, said he was shocked when the fire service asked him to leave.
He said: "I am a chef, I'm working all day long. I'm going to finish at 21:00 and everyone else will go home.
"I have nowhere to go so I'm probably going to sit down and cry."
There is a notice on the door warning the property has a "serious lack of fire safety plans" and is a risk to tenants.
Mark James from the fire service said so far this year six properties have been closed using the same powers.