Jersey States submit plans for new £400m general hospital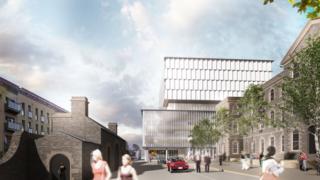 Jersey's new £400m hospital should be ready for patients by 2025, new plans have revealed.
Health Minister Senator Andrew Green said it would be the biggest capital project undertaken in the island.
Plans for the St Helier hospital have now been submitted for approval and will now go out to public consultation.
The development will also see the demolition of two hotels in nearby Kensington Place, including the Revere where the Beatles stayed in the 1960s.
More and the hospital and other stories on BBC Local Live >
Senator Green said they hoped to be able to negotiate the purchase of the buildings and would only make a compulsory purchase as a last resort.
He said there had been informal discussions with the owners of the buildings but hoped to be able to negotiate terms before the deadline.
The current 1980s building on the Parade will keep operating during the development.
In 2025 all of those services are planned move to the new 43m high building.
---
Timeline
29 June 2017: Outline plans submitted for the hospital
14 November 2017: Debate on the funding of the hospital project
2018: Final planning application to go in for approval
December 2018: Work starts clearing the site ready for demolition
January 2019: Demolition work begins on existing buildings
January 2020: Building work starts on the new hospital
2025: New hospital opens
---
The States currently have no plans for the future of that building but Senator Green said he hoped it would remain as part of a larger "health campus".
A public consultation process will begin and it is expected an external review of the plans will be carried out.
The debate on funding the new hospital is set for November, with work due to start in January 2019.