Asian hornets 'may be trying to settle in Jersey'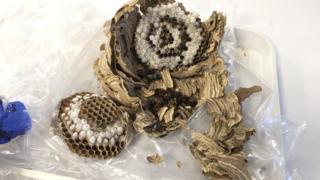 Experts say they fear a hornet which can kill up to 50 bees a day may be trying to settle in Jersey after a second nest was found this year.
Asian hornets were first seen in the island in August last year.
The most recent nest was found in an outhouse near Filquet, in the parish of St Martin on 26 June.
Principle Ecologist at the Department for the Environment, John Pinel, said they were "quite concerned about them establishing on the island".
More on the Asian hornets in Jersey, and other news
A Department for the Environment spokesman said: "Hornets play a crucial role in the ecosystem in controlling other insects and pollinating fruit and flowers, but the Asian hornet is a predator of native insects and is a threat to honey bees and other pollinators."
The first sightings of Asian hornets in the Channel Islands were in Alderney in July last year.
The department said Asian hornets were no more dangerous to humans than native hornets, but advised caution if a person was to encounter a nest, which they say are usually in high trees, but can sometimes be found in outbuildings or sheds.
The States are asking for any possible nests to be reported to the Department for the Environment.
---
Identifying an Asian hornet (Vespa velutina)
Vespa velutina queens are up to 3cm (1.2in) in length; workers up to 25mm (1in)
Entirely dark brown or black velvety body, bordered with a fine yellow band
Only one band on the abdomen: 4th abdominal segment almost entirely yellow/orange
Legs brown with yellow ends
Head black with an orange-yellow face
Source: National Bee Unit
---
Local beekeeper Bob Hogge said he expected the Asian hornets to return.