Clinton Pringle death: Jersey road safety changes 'will be made'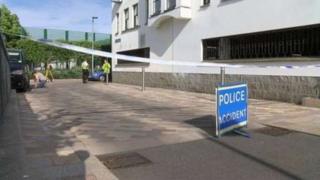 New safety measures will be introduced on a Jersey road following the death of a three-year-old boy.
Clinton Pringle died from "catastrophic injuries" when he was hit by a van while crossing a St Helier street in June 2016.
An inquest into his death heard recommendations from an independent safety study would be introduced.
Clinton's parents welcomed the changes but said they were "too late" for their son.
Clinton, from North Lanarkshire, was on holiday with his mother Stacey and his aunt and cousins when he was struck by the van.
The family had been crossing Tunnel Street on their way to Millennium Town Park in St Helier.
The inquest heard the St Helier Roads Committee would bring in extra safety measures at the road and at other spots, as recommended by an independent study.
They include more speed bumps, better signs, a zebra crossing and a one-way system.
The van driver, Rebekah Le Gal, 39, who admitted causing death by careless driving, was given a suspended jail sentence of eight months.
The inquest also heard roads around Millennium Town Park, including Tunnel Street, had not been independently reviewed since they opened.
In a statement, Clinton's parents said they were pleased the parish was now taking pedestrian safety around Millennium Park seriously but remained "deeply concerned".
"The parish does not appear to have undertaken any, or any proper, safety audit at either the design stage or the construction stage," they said.
Concluding the inquest, Deputy Viscount Mark Harris said he was encouraged safety improvements were being made around Millennium Town Park and would send his report to other highway authorities to prevent further deaths like this.
He expressed his sincere apologies to the Pringle family for their loss.