Jersey States approve £466m hospital funding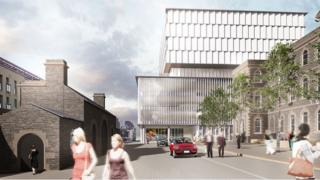 More than £466m will be spent building a new hospital in Jersey after a vote in the island's parliament.
The move will see the States borrow £275m towards the cost of building the hospital with the rest of the £466m coming from the strategic reserve.
The search for a new hospital site in Jersey started five years ago and has cost over £23m so far.
There were attempts to delay the funding debate until next year but this was rejected.
Some backbench members were worried making a decision before the project had been given planning permission was a mistake.
Deputy Russell Labey asked for a delay until next month when a planning report was due to be published.
More on this and other stories from BBC Local Live.
The final plans for the new hospital have not been submitted and there will be a consultation over the final design and layout.
Health Minister Senator Andrew Green has said the plans will see all single room wards, rather than multiple beds on a ward as is currently the case.
Current hospital
Before the debate started, a letter was written to States members by health service specialists urging them to approve the funding.
The letter claimed that patients with serious infections in Jersey can not be isolated properly because of overcrowding and poor facilities.
The development will also see the demolition of two hotels in nearby Kensington Place, including the Revere where the Beatles stayed in the 1960s.
The current 1980s building on the Parade will keep operating during the development.
In 2025 all of those services are planned to move to the new 43m high building.
---
Timeline
29 June 2017: Outline plans submitted for the hospital
13 December 2017: Debate on the funding of the hospital project
2018: Final planning application to go in for approval
December 2018: Work starts clearing the site ready for demolition
January 2019: Demolition work begins on existing buildings
January 2020: Building work starts on the new hospital
2024: New hospital opens
2025: Temporary structures removed
---