Jersey's dive-bombing seagull Gulliver 'could be killed'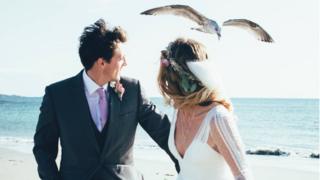 A dive-bombing seagull attacking beachgoers in Jersey could be killed by the island's government after a number of complaints.
But a move to save the hand-reared sea bird known as Gulliver has the backing of wildlife presenter Chris Packham.
He tweeted Jersey's government to say the bird isn't dangerous and should be saved.
But the island's environment minister said his department was still considering killing the animal.
It has received more than 20 complaints about the dive-bombing gull harassing beachgoers, but more than 700 people have signed an online petition to save the "friendly" seagull.
BBC Autumnwatch presenter Mr Packham tweeted: "I don't think Gulliver should die. And I definitely don't think he's dangerous. Maybe a free roaming Tyrannosaur on Jersey would put things in perspective".
Environment Minister Steve Luce, a former chicken farmer, said he did not want to shoot the nuisance seagull, but it is one option being considered by his department along with re-locating or clipping the birds' wings.
All species of gull are protected under the Wildlife and Countryside Act, which makes it illegal to intentionally injure or kill the bird.
However, the law allows licences to be issued to kill gulls in order to preserve public health and safety.
"We've got two extremes", Deputy Luce said, "the shooting with a rifle on one side and just allowing it to carry on upsetting people at the other extreme.
"We've got to find a compromise between the two".
"The bird is not afraid of people. You can pick it up apparently and cuddle it, it follows you down the beach and it pecks at your feet."