Jersey's dive-bombing seagull Gulliver to be moved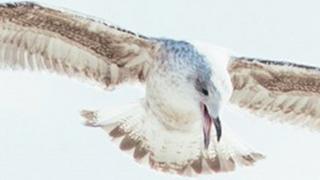 A dive-bombing seagull that has attacked beachgoers in Jersey is to be moved.
Gulliver, a hand-reared herring gull, will be taken to Les Minquiers, a group of islands nine miles (15km) south of Jersey, later this week.
It follows complaints the bird has been harassing people in St Ouen.
Environment Minister Steve Luce said it was hoped Gulliver would "integrate with other seagulls away from human interference".
Should the gull fly back to Jersey, "alternative options" will be explored, the department added.
More more than 800 people signed an online petition to save the "friendly" seagull after concerns it could be killed.
Wildlife presenter Chris Packham also previously tweeted to say the bird should be saved.
The Environment Department later confirmed the bird had been humanely captured and was in the care of charity the JSPCA.
However, conservationist Mike Stentiford said it is likely Gulliver will leave the sparsely populated islands and return to Jersey, or France, given its closer proximity.
"I've got my suspicions that it's not going to stay there very long, gulls are pretty mobile," he said.
"I would put money on the fact that it's going to return to the island."
Herring gulls are protected under Jersey's wildlife law.