Sunken £1.8m P6T2 Jersey yacht washes up in Carteret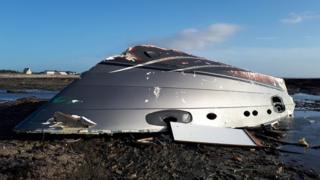 A "large part" of a yacht, reportedly worth £1.8m, that sank off Jersey has washed up on a beach in France.
Two men on-board abandoned ship on a life raft and were rescued by a lifeboat after the 'P6T2' hit a buoy in St Aubin's Bay in November 2017.
The wreckage appeared in the Portbail area, south of Carteret, on Friday, Ports of Jersey confirmed.
An operation to salvage the vessel was suspended in December, after divers found it had broken up on the sea bed.
A Ports of Jersey spokesperson said Jersey Coastguard is putting French authorities in touch with the yacht owner's insurance company.