Jersey Poppy Appeal thief jailed for 18 months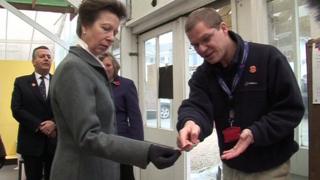 A man has been jailed after he admitted stealing more than £35,000 from the Royal British Legion over a two-year period.
Dominic Egre, 43, from Jersey, had a long-standing association with the charity as both his parents served in the armed forces.
The Bailiff, Sir William Bailhache, told the island's Royal Court that a custodial sentence was "inevitable".
Egre was charged with two counts of larceny and jailed for 18 months.
More on this story and others from the Channel Islands
The court heard Egre was entrusted with designing and producing metal poppy pins to raise money for the charity's Jersey branch in 2008.
Charity accounts showed "relatively little" money had been raised from the pins and the former Lieutenant Governor Sir John McColl became concerned.
It was then that Egre's bank statements were examined and showed five payments into his personal account that matched money collected from the sale of the pins.
The court was told Egre had "grossly abused his position of trust" and had "brought shame" on the charity.
Sentencing, Sir William acknowledged that Egre is the primary carer for his father and two children but said "given the offences of dishonesty following a breach of trust, a custodial sentence was inevitable".