Jersey WW1 soldier's final resting place found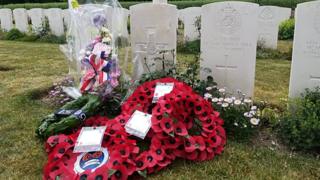 The final resting place of a soldier killed in battle in World War One has been discovered in France 100 years after his death.
Maj Octavius Darby-Griffith was attached to the Jersey Royal Militia for more than 20 years.
He was killed in May 1918 near Reims after being shot in the heart and for a century, had no known grave.
But thanks to the work of a UK historian, his headstone has been rededicated.
More stories from the Channel Islands
Maj Darby-Griffith was born in Monmouth, Wales, in 1871 but lived a lot of his life in Jersey, where he married in 1893.
David Tattersfield, from the Western Front Association, who tracked down the soldier's grave, said he enlisted as a private soldier at the age of 15.
"He served over 20 years in the Army and was promoted to a trusted position," he said.
"He served with the Jersey Militia before he retired in 1910 and became a hotelier at Beaumont on Jersey's south coast."
Maj Darby-Griffith rejoined the Army at the outbreak of the war in 1914, where he rose to the rank of Major.
He died in the Battle of the Chemin des Dames and was buried in an unnamed grave.
Mr Tattersfield visited a cemetery at La Ville-aux-Bois in the village of Maizy near Reims a few years ago to try to track it down.
"Wandering around the cemetery, we noticed a headstone stating 'unknown Major, Loyal North Lancashire Regiment'.
"Realising there would be few battalions of the regiment operating in the area, and that few men with the rank of Major would have been killed, it seemed that it should be possible to identify this officer," he said.
After research and discussions with the Commonwealth War Graves Commission and the Ministry of Defence, it was confirmed the headstone found was that of Darby-Griffith.