Mystery over identity of Nazi camp 'victim' from Jersey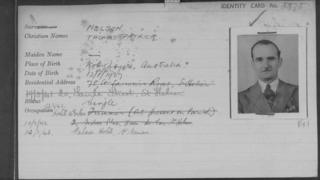 There are doubts over the identity of a man thought to have died in a Nazi concentration camp, a historian says.
Peter Johnson, among the 21 people sent from Jersey recorded as having perished in the camps, could actually have been Thomas Nanson - who survived the war.
Evidence found by Dr Gilly Carr reveals strong similarities between Nanson and what is known about "Johnson".
Nanson, who she described as having led a "double life", went under the alias Thomas Nelson while living in Jersey.
Dr Carr, from the University of Cambridge, said evidence from Australian relatives of Nanson revealed specific details about him, which had led her to conclude accounts relating to Johnson might have actually been referring to Nanson.
Both Nanson and Johnson are described as being Australian, unable to hear, sawed wood for a living and were deported from Jersey to Saint-Lo prison in north-west France in 1944.
However, while records show Nanson was later transferred to Fort de Villeneuve-Saint-Georges prison in Paris, and liberated by US forces, Johnson is said to have been sent to Dora-Mittelbau concentration camp, and likely killed.
But Dr Carr and fellow historian Paul Sanders say the only evidence for Johnson's existence comes from one other Jersey prisoners of the Germans, Joe Miere.
'No archival evidence'
Miere recalled the existence of Johnson in an anecdote which described an accident to his hand while sawing wood.
Dr Carr says Nanson arrived at Villeneuve-Saint-Georges prison with distinguishing marks of an unspecified nature to his hands and forearms.
"Clearly, Joe Miere remembered somebody," Dr Carr said.
But she added: "We have absolutely no archival evidence that anybody of that name [Johnson] existed, and therefore it seems highly likely that the name has been incorrectly remembered.
"It is possible that his [Joe Miere's] memory conflated the stories of more than one person, which explains why Thomas Nanson doesn't fit his story precisely." (Johnson was also described as being unable to talk and as having lost his left thumb in a sawing accident - neither of which details apply to Nanson.)
"However, we must also accept that Jersey Archives does not have the occupation registration forms of everybody - some were removed at an earlier date - and that not all records survive from Nazi prisons and concentration camps."
Dr Carr is documenting all Channel Islanders who were deported by the Germans during the occupation for a project called the Frank Falla Archive.
Falla was a journalist from Guernsey who lobbied the British government for reparations on behalf of families affected by German imprisonment during the occupation of the Channel Islands.
Occupation of the Channel Islands
Winston Churchill thought the Channel Islands held no strategic importance for Britain and decided to de-militarise them.
28 June 1940 - Unaware that the islands were undefended, the Luftwaffe bombed Jersey and Guernsey, killing 44 people
30 June to 25 July 1940 - German forces occupy Guernsey, Jersey, Sark, Alderney and finally Herm (although troops were not stationed there)
Islanders had to live under a curfew, carry ID cards and wirelesses were banned. All British-born islanders were deported to Germany.
6 June 1944 - Following the D-Day landings food lines are cut between the Channel Islands and German-occupied France. The Red Cross ship SS Vega later begins delivering food parcels as the islands begin to starve
8 May 1945 - VE Day. German forces yet to surrender
9 May 1945 - Liberation Day. Unconditional surrender signed by German command in the Channel Islands
Read more on the German Occupation of the Channel Islands.
When writing an article for the archive on "Thomas Nelson", Dr Carr said she was contacted by Joanne McAuliffe, the Australian granddaughter of a Nanson, who showed her the evidence of his alias, and gave her key details - such as his inability to hear - which eventually led the academic to her theory.
According to Ms McAuliffe, Nanson was born in Wiltshire but spent his formative years in Australia. He returned to the UK in 1920 and married, but later acquired a criminal record, which Dr Carr believes could have been the incentive for Nanson to begin his "double life" in Jersey, to get a "fresh start".
After his release in 1944, Nanson is thought to have been repatriated to the UK before moving to Australia. The Frank Falla Archive records that he remarried in May 1948 to Mary Lawless and settled in Benalla, Victoria. He died there in January 1972.
Ms McAuliffe said it was a "shock" to uncover her grandfather's "colourful life", adding that although some questions about his past "may never be answered", the family "felt closer to him".