Jersey Care Inquiry changes 'not being made fast enough'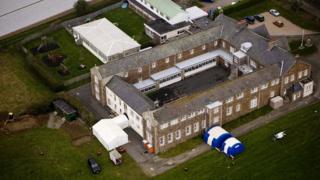 After decades of abuse in Jersey's child care system, changes are "not being made fast enough", the island's government has admitted.
The Jersey Care Inquiry report was published one year ago, and looked back at the abuse of children on the island since 1945.
Of the 41 actions set out in the report, only 11 have been completed.
The initial findings of an Ofsted report concluded that children in Jersey are "still being failed".
More on this story and other Jersey news
The Jersey Care Inquiry report made eight recommendations to the States of Jersey, which were broken down into 41 individual tasks.
So far 11 have been completed, including the appointment of a Children's Commissioner, increasing staff numbers, and making young people part of the interview process.
'Still failing children'
But there are still 30 actions to complete, including government approval of the annual inspection process, and a decision on the future of the Haut de la Garenne building, which was the scene of much of the physical and sexual abuse of children in Jersey over the last 70 years.
The nominee for the position of Children's Minister, Senator Sam Mezec, said Jersey's children need more than "good intentions".
"Jersey is on the right path, with a Children's Commissioner in post, children's rights and listening to children on the agenda and independent inspections taking place - but we're still a long way from the destination, and we're still failing children and young people.
Glen Houston, the head of the Care Commission - an independent inspection body - said the political will is in place for things to change, but he remains concerned about a "churn in the workforce".
According to the new Children's Commissioner, Deborah McMillan, some children in care have had up to 12 different social workers, and she said she is concerned over the harm this could cause.