Jersey concentration camp survivor honoured at service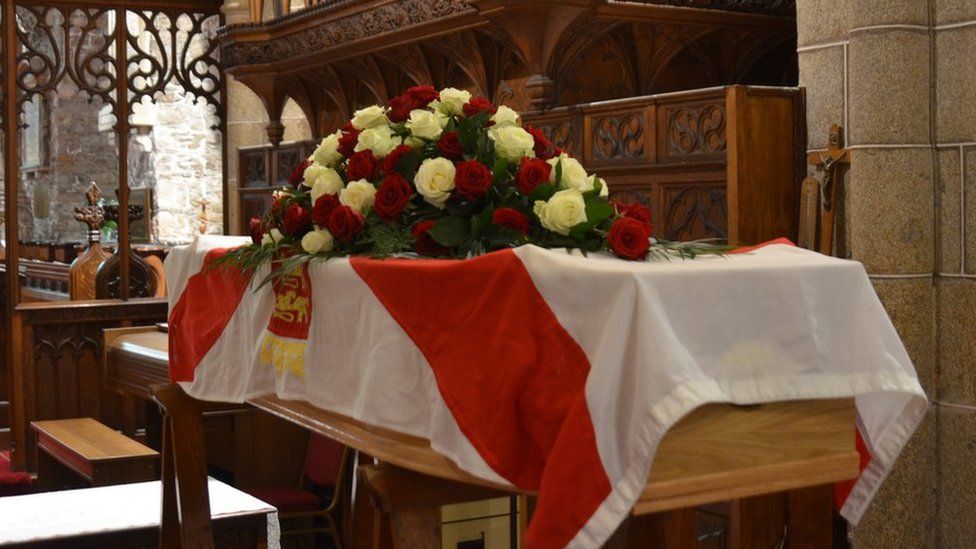 A ceremony has been held for a concentration camp survivor who is to be re-buried at his island home 71 years after his death.
During World War Two Frank Le Villio, 19, took a German officers' motorbike in occupied Jersey and was deported.
After surviving the Neuengamme and Sandbostel camps he died from tuberculosis in Nottingham, in 1946.
At St Saviour's Church, Mr Le Villio's cousin Stan Hockley said he was "delighted" to have him home.
"It's been a long, long journey. The main problem was financial; it cost a lot of money" Mr Hockley said.
Looking back on his memories of his cousin, Mr Hockley said: "I remember kicking a ball around with him in the street; happy memories.
"He was a bit of a Jack the lad, running about and doing all these things.
"He was mad on motorbikes, he had his own Matchless motorbike and he adored it."
Speaking at the service, Stanley Keiller, who was a young boy in Jersey during the occupation of the Channel Islands, said it was "closure" for Frank's surviving family.
In 2016, Mr Keiller was preparing for a talk on the occupation at his home in Salcombe, Devon, when he discovered Frank's story and the mystery surrounding where he was buried in Nottingham.
He contacted a local priest and undertaker to join the search and Mr Le Villio's body was found buried in a paupers grave at Wilford Hill Cemetery in 2017.
"He was a young teenager who was taken away from us in those occupation years, and there's a satisfaction in having found him," Mr Keiller added.
Dr Gilly Carr, senior lecturer in archaeology at the University of Cambridge, said the reburial showed the extent to which Jersey was prepared to welcome back victims of Nazism.
She said in the past it had been easier to honour islanders who carried out more "honourable crimes", but it was "brilliant" the island acknowledged Mr Le Villio's suffering and that he deserved to be buried "as a hero".
Mr Le Villio will be buried at Surville Cemetery in St Helier on Thursday.
Occupation of the Channel Islands
Winston Churchill thought the Channel Islands held no strategic importance for Britain and decided to de-militarise them.
28 June 1940 - Unaware that the islands were undefended, the Luftwaffe bombed Jersey and Guernsey, killing 44 people
30 June to 25 July 1940 - German forces occupy Guernsey, Jersey, Sark, Alderney and finally Herm (although troops were not stationed there)
Islanders had to live under a curfew, carry ID cards and wirelesses were banned. All British-born islanders were deported to Germany.
6 June 1944 - Following the D-Day landings food lines are cut between the Channel Islands and German-occupied France. The Red Cross ship SS Vega later begins delivering food parcels as the islands begin to starve
8 May 1945 - VE Day. German forces yet to surrender
9 May 1945 - Liberation Day. Unconditional surrender signed by German command in the Channel Islands
Related Internet Links
The BBC is not responsible for the content of external sites.