Occupation survivors reminisce over board game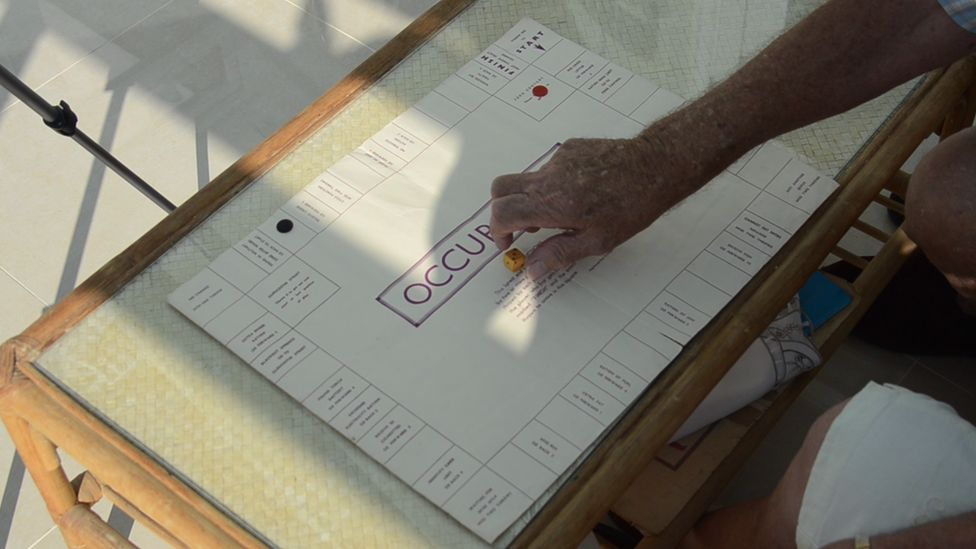 People in Jersey have been reminiscing over a board game created during World War Two after one was found in a loft.
The Monopoly-style game - called Occupation - may have been a form of light-hearted resistance, said a survivor.
Printed exclusively on the island, the game refers to the difficulties faced by islanders during the Nazi occupation from 1940 to 1945.
Simon Griffiths found the game when he moved into his new home in Jersey.
Islanders Diana and Cliff Petit also own copies - both of which were given to them as children.
Mrs Petit said its creators may have thought "right, we'll do this, we'll show them (the German forces)".
Mrs Petit believes she was given her copy of the game at some point in 1943 while her husband, Cliff, was given his as a Christmas present when he was nine.
"I remember having great enjoyment playing with it during the occupation, where we didn't have much else," said Mrs Petit.
She said she was not sure what the German forces' reaction to the game would have been, had they seen it, and, at the time, her family enjoyed it "as a game" and did not take it "too seriously".
Mr Petit said nothing around the board was too controversial.
"To be honest, I don't think they would have risked going that far," he added.
One tile on the board resonated with Mr Petit in particular - relating to buying eggs, a commodity during the occupation.
He said he remembered his mother walking across the island to get "just two eggs" to feed his father, who was ill and died during the war.
The couple, from St Brelade, brought their versions of the game to the town hall in St Helier in 1995 for the 50th anniversary of Jersey's liberation on 9 May 1945.
Val Nelson, from Jersey Heritage, said an original copy of the game was recently donated to the island's archives.
"It's always been said about the British sense of humour that gets you through any of the hard times," she said.
Ms Nelson said the game was "advertised freely" and it was noticeable it did not say anything derogatory about occupation forces.
"It doesn't even say go to jail, it says go to Gloucester Street," she added.
"Everybody at that point would know Gloucester Street was the prison which held political prisoners, as well as the usual petty criminals."
Occupation of the Channel Islands
Winston Churchill thought the Channel Islands held no strategic importance for Britain and decided to de-militarise them
28 June 1940 - Unaware that the islands were undefended, the Luftwaffe bombed Jersey and Guernsey, killing 44 people
30 June to 25 July 1940 - German forces occupied Guernsey, Jersey, Sark, Alderney and finally Herm (although troops were not stationed there)
Islanders had to live under a curfew, carry ID cards and wirelesses were banned. All British-born islanders were deported to Germany
6 June 1944 - Following the D-Day landings food lines were cut between the Channel Islands and German-occupied France. The Red Cross ship SS Vega later began delivering food parcels as the islanders began to starve
8 May 1945 - VE Day: German forces yet to surrender
9 May 1945 - Liberation Day: unconditional surrender signed by German command in the Channel Islands