Mysterious note nailed to door with knives in Jersey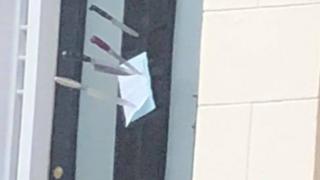 Residents in an apartment block awoke to find a note had been stuck to their door using several knives.
The piece of A4 paper - bearing an "illegible" message scrawled in an unknown language - was found in David Place, St Helier, Jersey.
A picture shows three blades driven through the note, with a fourth plunged into the door itself.
Police said it was unclear who the message was for, but there was no history of threats on the building.
Residents of the building, which holds several flats, said they were unsure when the note was left.
Police were called just before 08:00 BST on Friday but a force spokesman said they could not make out the wording of the note, nor what language it was written in.
Due to the illegible writing, a police spokesman said it was unclear who the intended recipient of the note may have been.
Investigations were ongoing, he added.
You may also be interested in: