Asian hornet growth 'terrifying' for allergy sufferer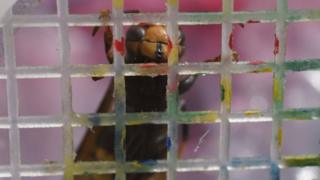 A woman with a wasp sting allergy says the spread of Asian hornets in British Isles needs to be stopped, as it puts her life at risk.
Michelle Wason, from Jersey, says she is "terrified" of being stung by the invasive species.
In the UK eight Asian hornet nests have been destroyed, as well as 56 queens and nests in the Channel Island.
Allergy experts say there is a "strong similarity" between wasp and hornet venom.
The latest news from the Channel Islands.
"If I were to get stung...it could mean the difference between life and death to me," Ms Wason said.
"There are lots of people [who] have the same allergy as me and it's terrifying, they [Jersey's government] really need to step up and do something about it."
The States of Jersey have been approached for comment.
In August a man was sent to hospital in the island after suffering an allergic reaction to an Asian hornet sting.
He had been standing near a gardener who had been trimming a hedge and disturbed a nest.
Ms Wason added a shortage of adrenaline auto-injectors across the British Isles, to combat the venom delivered in a hornet's sting, added to her concern.
The UK's Department of Health and Social Care said it was "working closely" with manufacturers to improve the situation.
Martin Smith, from the British Beekeepers Association warned: "Asian hornets can be aggressive when disturbed."
"If people are allergic to insect stings they should take extra care around all nests."
Dr Pamela Ewan, Consultant Allergist at Cambridge University Hospital NHS Trust, said it was possible the similarities between wasp and European hornet's venom could also be found in the Asian hornet.
However, she said the number of people having reactions to stings from bees, wasps and hornets was "very low" in the UK.
She added there was no shortage in treatment for allergic reactions to insect stings at hospitals.
---
Asian hornet (Vespa velutina)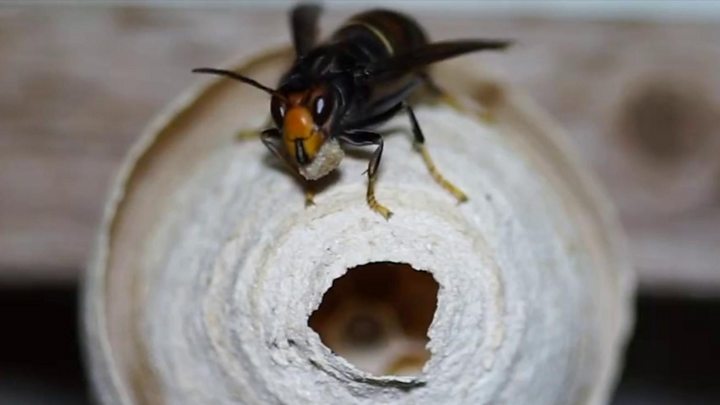 Queens are up to 3cm (1.2in) in length, while workers are up to 2.5cm (1in).
The hornets have a dark brown or black velvety body, bordered with a fine yellow band.
They nest openly in trees and hedges, unlike European hornets which often nest in cavities.
They hover near hives to snatch worker bees, macerate them into a pellet and take them back to their colony.
Their sting is no more potent than the European hornet's.
Source: National Bee Unit / University of Exeter/ Centre for Ecology and Hydrology