Jersey Airport near to remote air traffic control launch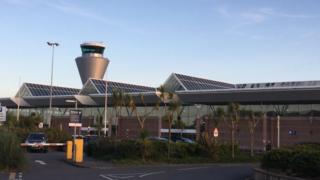 A system allowing air traffic control to be managed remotely is due to launch at a commercial British airport for the first time.
Jersey is said to be weeks away from introducing it, pipping larger airports such as London City to the post.
"Digital towers" allow controllers to manage runways from any location using footage from high definition cameras.
The new technology will be used at first in Jersey as a backup in case the existing tower is evacuated.
It will be based at the edge of the airfield and Doug Bannister, CEO of Ports of Jersey, said: "In theory we could be controlling airports throughout the UK from Jersey.
"If we can bring it to market with them we will find ourselves creating a network of remotely controlled airfields."
More news from the Channel Islands.
Last year London City Airport announced plans for a "digital tower" due to start operations in 2019.
But a spokesman said a "full year of testing" would begin next year, with a view to get the tower up and running by January 2020.
Digital control towers have been tested in Sweden, Norway and Ireland.
---
How does it work?
Pam Laycock, air traffic controller at Jersey Airport, said: "You've got the main panorama which are the three screens in front of you.
"That picture is fed by 11 different HD cameras which is then stitched together to show one continuous picture."
The rest of the equipment is identical to existing systems used in conventional air traffic control towers.
A Ports of Jersey spokesman said there was "a great deal" of safety back-up within the system.
"We have been through a great deal of rigorous testing of the equipment for the last 10 months.
"Data is transmitted over networks using diverse routes which provide redundancy in the event of failure.
"Even with all this, controllers undergo significant training and robust procedures are in place so that in the event of a failure, Jersey Airport can continue to operate."
---
Dominic Lazarus, director of civil aviation for the Channel Islands, said he was "delighted" the airport was "nearing the end of trials to gain certification for remote tower capability."
A spokesman for NATS, Britain's air traffic control provider, which is working with UK airports on digital towers, said while once a "niche" concept, remote towers were a "reality" for "a number of airports worldwide".
Cranfield Airport, a private airstrip in Bedford connected to the nearby university, says it hopes to start fully transitioning its air traffic control to a digital tower "by the end of this year".
Professor Graham Braithwaite, director of transport systems at Cranfield University, said the technology created an opportunity especially at "smaller or remote airports" to have a "high quality air traffic control service".