Jersey fishermen protest over ongoing licence dispute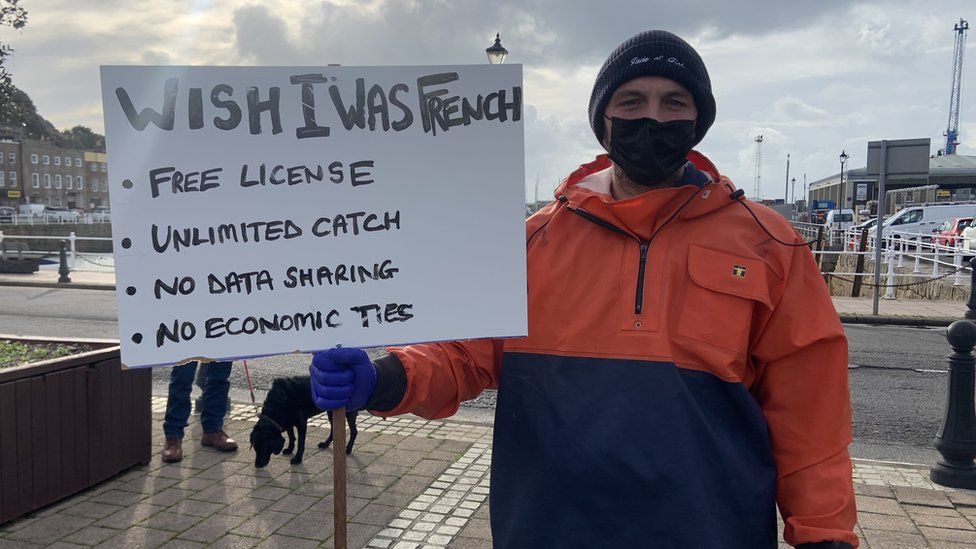 Jersey fishermen have been demonstrating in St Helier amid an ongoing row over post-Brexit rights.
Fishermen walked from the harbour to the Royal Square to protest the handling of the licence dispute.
More than 60 people gathered outside of the Royal Court House to hand a list of demands to Jersey's government.
They expressed frustration as their vessels were still being stopped from landing in Europe while French vessels were allowed to fish in island waters.
Demands included upholding current agreements and ensuring there was a level-playing field.
President of the Jersey Fishermen's Association Don Thompson said: "We've delivered a very strong message today that we cannot go into 2022 with a free-for-all in our waters, we've lost 25% of our fleet this year, we cannot continue.
"We are telling the government they have to be firm, if France isn't going to play by the deal then we have to stop access to our waters."
Mr Thompson said if the government doesn't help them, they won't stop protesting.
He said: "We won't stop until Jersey gets control of our waters... they need to take proper action instead of sitting on their hands and allowing France to cut us off.
"Until we have access to markets we are going to continue to demonstrate."
Minister for the Environment Deputy John Young said the government was doing its best to resolve the dispute.
He said: "I absolutely understand their anger and share that, but my job is to try and find a way through this and try and get the problem solved.
"We've spent nearly a year on this and we've not been able to get the agreement to work - every licence we have issued is in accordance to the rules."
EU commissioners said the opposing sides had to reach an agreement by 10 December - but Downing Street said it doesn't recognise that deadline.
Jersey's external relations minister will push for licences for eight Jersey boats to fish in French waters as part of any agreement.
Senator Ian Gorst said officials are continuing to work through large amounts of logbook data for the French.
He said: "I am pushing for the eight licences that Jersey fishing vessels are still waiting for as well.
"It may be that additional licences are able to be issued but it is 'mays' and 'possible' rather than absolutely.
"My preference is to seek resolution in the remaining hours of today, but that may not be possible."
The French could start legal action against Jersey and Britain if the fishing dispute isn't resolved soon.
French seas minister Annick Girardin said that if no progress had been made by the end of Friday she would start the process towards litigation.
Related Internet Links
The BBC is not responsible for the content of external sites.