Jersey runner completes 100-mile challenge in memory of step dad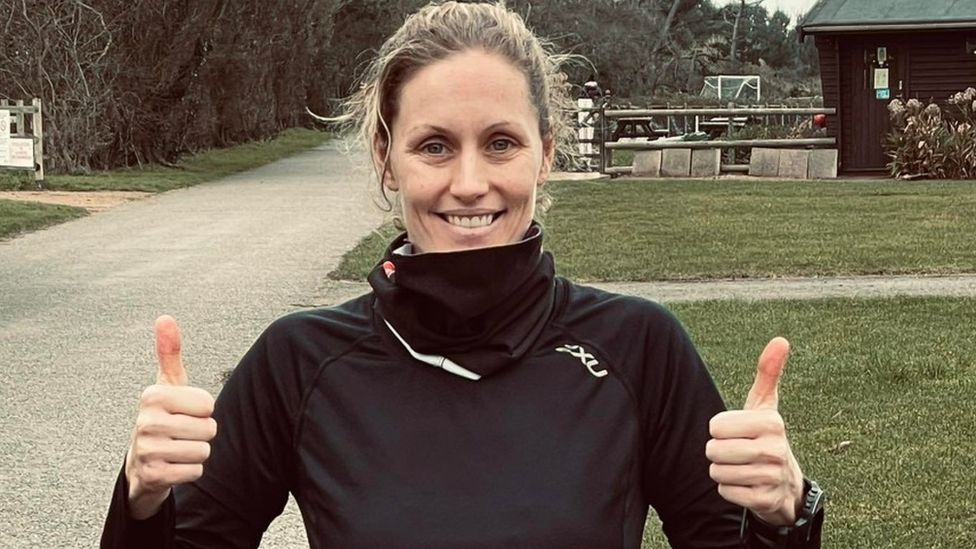 A woman from Jersey has run 100 miles in memory of her step father who died of cancer aged 61.
Steph Henwood-Darts, who won the Jersey Marathon earlier this year, ran 4.2 miles (6.8 km) every hour for 24 hours.
She raised money for The Shelter Trust, who helped her step father, Pete Ollivier, when he was homeless, and Jersey Hospice Care, who cared for him when he had cancer.
Ms Henwood-Darts said Mr Ollivier, who died in October, was a "great man".
She started the challenge at 10:00 GMT on Friday, doing loops of the running track at Les Quennevais.
Ms Henwood-Darts, who was three years old when Mr Ollivier became her step father, said: "My memories of him in my younger years are of fun and laughter, lots of football, holidays and being carried up to bed every night by this great man.
"Unfortunately he had some dark days later on in life and turned to alcohol which eventually led to him relying on The Shelter Trust."
Ms Henwood-Darts told BBC Radio Jersey that there were some "low points" on the challenge where she struggled to make it to the next hour, but at one point she saw a double rainbow and it reminded her of Mr Ollivier.
"It kind of reminded me why I was doing it, who I was doing it for and that I would get through. Those thoughts helped me get back on my feet and do another lap," she said.
She has raised more than £1,900.
Related Internet Links
The BBC is not responsible for the content of external sites.