Jersey Celtic coin hoard bought by island's government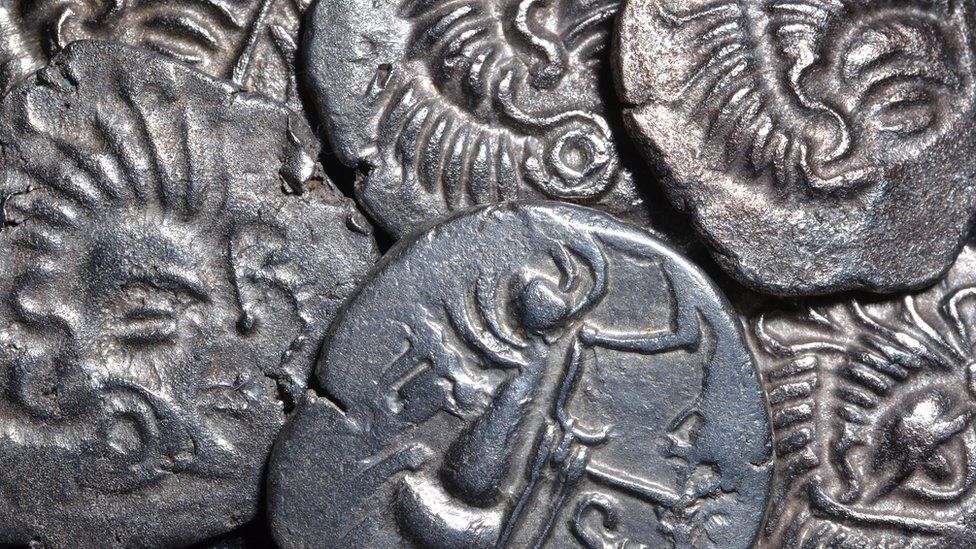 The Government of Jersey has purchased one of Europe's largest coin hoards from the Receiver General "on behalf of the island".
A sum of £4.25m was paid and agreed by the Council of Ministers from the civil asset recovery fund, which is money recovered from criminal activities.
The Le Catillon II hoard was discovered in the east of the island in 2012 by two metal detectorists.
The historic collection of coins will now remain in Jersey Heritage's care.
Part of the financial settlement included a £250,000 payment to Jersey Heritage for their work towards dismantling the coins, and an additional £250,000 which will be used to establish a trust.
The hoard was claimed by the Crown when it was discovered in 2012 as a treasure trove in accordance with Jersey customary law.
The Crown will now undertake the work to establish an independent trust to promote scientific and educational research into the historic discovery.
Chief Minister John Le Fondre said the purchase was made "in the interest of the island".
He said: "This is an outcome which will ensure that this unique part of Jersey's history remains in the island for this and future generations.
"Since its discovery nine years ago, Jersey Heritage conservators, archaeologists and volunteers have unpicked and studied the hoard, but there is still much that it can reveal about Jersey and our place in the world at the time of Christ."
Chairman of Jersey Heritage's Board of Trustees Tim Brown said they are honoured to keep the hoard in their care, however, he said new legislation now needs to be established.
He said: "The acquisition illustrates why the island desperately needs new legislation to cover the discovery of portable antiquities, such as this significant archaeological find.
"We are fully aware of the practice for valuing similar finds in the UK and have concerns that the ultimate price paid was so far adrift from expert advice.
"Such a conclusion could have a detrimental impact on Jersey reputation and endanger future acquisitions by setting a precedent for inflated valuations."
Mr Brown added he looks forward to working alongside the government to bring forward more modern legislation.
In April Jersey Heritage bought 1,600 coins and 35 pieces of jewellery dating back to the Iron Age for £38,000. These items made up about two-thirds of Le Catillon I hoard, which was discovered in 1957.