Venezuela leader Hugo Chavez severs ties with Colombia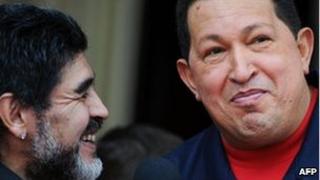 Venezuela has broken off diplomatic relations with Colombia and ordered Colombian diplomats to leave the country by Sunday.
President Hugo Chavez said he had "no choice" after Colombia accused Venezuela of being a haven for guerrillas - a charge he denies.
He said that he was acting "out of dignity" in severing ties.
He also ordered the military to be on maximum alert on Venezuela's border with Colombia.
Venezuelan Foreign Minister Nicolas Maduro said the government was also considering suspending flights and cutting commercial ties with Colombia.
President Chavez made his announcement shortly after a meeting of the Organisation of American States (OAS) in Washington, at which Colombia presented videos, maps and photos to back up its claims that Marxist Farc and ELN rebels have bases in Venezuela.
"We have no other choice but, out of dignity, to totally break our relations with our brother nation of Colombia," Mr Chavez said live on national television as he hosted a visit by Argentina football coach Diego Maradona.
He said the photographs shown to the OAS could have been be faked, and insisted that Venezuela was doing everything possible to stop Colombian rebels crossing the border.
"We do not tolerate the Farc in Venezuela," he said, before calling outgoing Colombian President Alvaro Uribe a "mafia boss", a "madman" and a "criminal".
He suggested Mr Uribe could be seeking a conflict with Venezuela before he left office next month.
"Uribe is even capable of setting up a fake camp in one of the jungles on the Venezuelan side to attack it, bomb it and bring about a war between Colombia and Venezuela," Mr Chavez said.
A US official was quoted by AFP news agency as saying that Venezuela breaking ties with Colombia was not a "proper way" to raise concerns.
Inspection call
In Washington, Colombian ambassador to the OAS Luis Alfonso Hoyos said the material was clear evidence that about 1,500 Colombian rebels were sheltering at numerous camps inside Venezuela.
His Venezuelan counterpart, Roy Chaderton, ridiculed the Colombian evidence, saying that the photos and videos could have been taken anywhere.
Mr Hoyos demanded that Venezuela fulfil its international obligations to fight terrorism and that it allow an international commission to visit suspect sites.
"We have the right to demand that Venezuela doesn't hide those wanted by Colombia," he said.
After the meeting, OAS Secretary General Jose Miguel Insulza told reporters that the regional body could not mount an inspection mission without Venezuela's consent.
The issue over whether Venezuela has rebels on its territory has dogged ties between the two South American nations for the past eight years.
But the latest exchange plunges bilateral relations to a new low.
The BBC's Jeremy McDermott in Bogota says it also leaves Juan Manuel Santos, who takes over as Colombia's president from Mr Uribe in two weeks, with a very difficult situation to handle.