Chile president rules out pardon for military abuses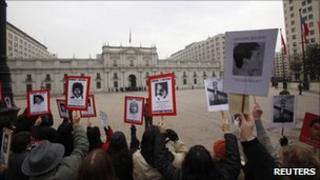 President Sebastian Pinera of Chile has rejected a plea by the Roman Catholic Church that he pardon members of the armed forces over human rights abuses committed during military rule.
Mr Pinera said the proposal had caused division in Chile and reopened old wounds.
He said there could be no pardon for serious offences such as murder and crimes against humanity.
More than 3,000 Chileans were killed by the military between 1973 and 1990.
The Chilean Bishops' Conference had urged Mr Pinera to show clemency to long-serving inmates who had shown repentance, in a gesture to mark 200 years of Chilean independence.
In a letter last week, the bishops said that not all of those convicted of crimes under the rule of General Augusto Pinochet shared equal responsibility.
'Old wounds'
But Mr Pinera rejected the suggestion saying: "I have reached the conclusion that it would not be prudent or convenient in the current circumstances to promote a new law of general pardon.
"These proposals continue to create tensions and divisions between Chileans, and have reopened old wounds and the rancours of the past."
He said individual cases would be considered in a "very prudent and restrictive manner," but not if they involved serious crimes such as murder, terrorism, rape or crimes against humanity.
The bishop's proposal provoked anger among families of those tortured and killed or disappeared under military rule.
Mr Pinera, who took office in March, is Chile's first conservative president since the end of military rule in 1990.
Some of his political allies were linked to the military government, but he has tried to distance himself from the legacy of Gen Pinochet.