No Castro speech as Cuba marks Revolution Day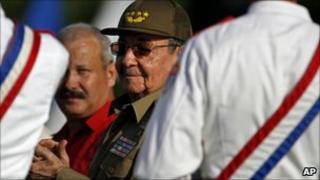 Cuba has been celebrating Revolution Day, but for the first time in 50 years there was no address to the nation by either Fidel or Raul Castro.
President Raul Castro presided over events in memory of the first battle of the revolution in 1953.
But he left it to his vice-president Jose Ramon Machado Ventura to speak.
And there was no sign of his elder brother, Fidel, who had appeared at several small events recently, thereby increasing speculation he might attend.
Raul Castro has never been one to hug the limelight and he rarely speaks in public.
But there are certain set state occasions when the country's leader traditionally addresses the nation, including the annual 26 July rally.
President Castro attended events in the central city of Santa Clara, dressed in his general's uniform, and took the platform briefly to salute the crowd.
But in an unprecedented move, he left it to Mr Machado to give the address.
Last month, Raul Castro confounded his critics by announcing he would free a large number of political prisoners, and there had been suggestions he might announce more releases.
Many Cubans had also been hoping he would use this occasion to launch a similarly bold initiative to reform the stagnant state-run economy, says the BBC's Michael Voss in Havana.
Cuba has been under a wide-ranging US embargo since the early 1960s.
The president may be holding his fire for next weekend's National Assembly meeting, our correspondent adds.
Instead, Mr Machado said that tackling the economy was the government's priority but gave no details.
"Savings, reduction of costs and the maximum rationing of energy and resources are our urgent needs in all areas," he said.
"We will never accept outside pressure," Mr Machado added.
Support for Venezuela
Mr Machado also spoke of Cuba's support for Venezuela, currently mired in a diplomatic row with Colombia.
Venezuelan President Hugo Chavez cancelled a planned visit to Cuba in the light of the crisis.
Mr Machado referred to what he termed "the visible recuperation" of Fidel Castro.
Fidel Castro, who turns 84 next month, has made six public outings over the past fortnight, the first since he stepped down to undergo major surgery in 2006.
However, despite rumours he might attend, there was no sign of the former president.
The main event on Monday took place beside the mausoleum of Ernesto Che Guevara, the Argentine-born revolutionary leader who fought alongside the Castro brothers and was a close associate of Fidel.
The annual 26 July rally marks the anniversary of the first battle of the Cuban revolution when Fidel, along with Raul, led an attack on the Moncada barracks.