Indigenous groups occupy Brazil hydro-electric plant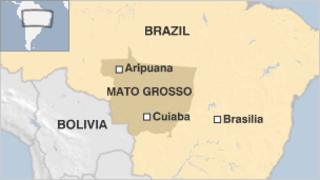 Indigenous protesters in the Brazilian Amazon have occupied the site of a hydro-electric plant they say has been built on an ancient burial ground.
Some 300 protesters took over the power plant in Mato Grosso state on Sunday, initially preventing 100 workers from leaving, local media reported.
They want compensation and have demanded talks with the company and government officials.
The plant is one of several being constructed in the Amazon region.
The protesters, from several tribes and armed with bows and arrows, occupied the power plant site early on Sunday.
An estimated 100 construction workers were unable to leave, but there were no reports of any violence or injuries.
Later reports on Monday said the protesters had allowed the workers to leave, with several company officials taking their place.
The plant is being built on the Aripuana river, some 400km (250 miles) north of the Mato Grosso state capital, Cuiaba.
It is the first phase of a hydro-electric project there and is expected to start operations by January 2011.
'Cultural impact'
The indigenous peoples want compensation for the construction of the plant, saying it has destroyed an ancient burial ground and archaeological site.
"This site is 30km from our reserve and has caused great cultural and social impact in our community, not to mention environmental damage," Aledeci Arara, a tribal leader, told the G1 news portal.
The plant's manager, Paulo Rogerio Novaes, said the indigenous protesters were seeking better living conditions, demands the government should address.
"The company has never refused to do something for the community, but we are awaiting a study from Funai, which is analysing what should be done," he said, referring to the government's indigenous affairs agency.
About 80% of the energy in Brazil comes from hydro-electric dams and the government has been pushing ahead with the construction of new plants.